Awesome Colors
Is grass always greener on the other side? It's definitely true for this Samsung TV. Thanks to Samsung's Wide Color Enhancer technology, your grass becomes greener, skies bluer and roses redder.
Live it up in High Definition
This TV comes with an HD Ready resolution of 1366x768 pixels, which is more than sufficient for a cinematic experience. You also get an HDMI port to ensure that high quality content can be transferred seamlessly from a multiple range of devices.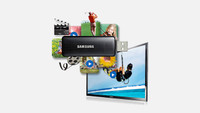 Ahoy, USB
Got a pen drive or hard disk chock full of movies and photos? Well, now you can just plug it into the USB port of this TV and enjoy the content on the big screen. You don't even have to worry about any complicated setup procedure.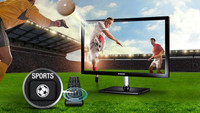 Turn it up
This Samsung TV comes with two speakers, both of which offer 10 W of audio output. It also boasts Dolby Digital Plus technology. So, it doesn't matter what you are watching, you can be absolutely sure that you're not going to miss out on any detail, whether it's a important piece of dialogue or a super-cool explosion.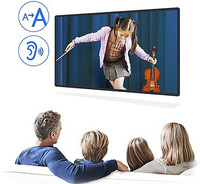 For the Love of Sport
Why stick to standard when you can get a customized better experience? For instance, this TV comes with a special mode for sports. Well, what does this mode do – you ask? Imagine watching your favorite team play on the screen when you feel like you are right there in the stadium. Yeah, that's it.
Other features
A total sound output of 10 watts, Dolby Digital Plus technology, two HDMI ports, one USB port, a contrast ratio of 1000000:1 and a refresh rate of 100 Hz.